We all know those weeks when it's just incredibly hard to come up with delicious nutritious meals that the kids will eat. After six years of trying to please the (ever-changing) taste-buds, I'm happy to share our family favorites with you. Hope this makes your week a little easier. Happy cooking!
Easy Three-Ingredient Tomato Soup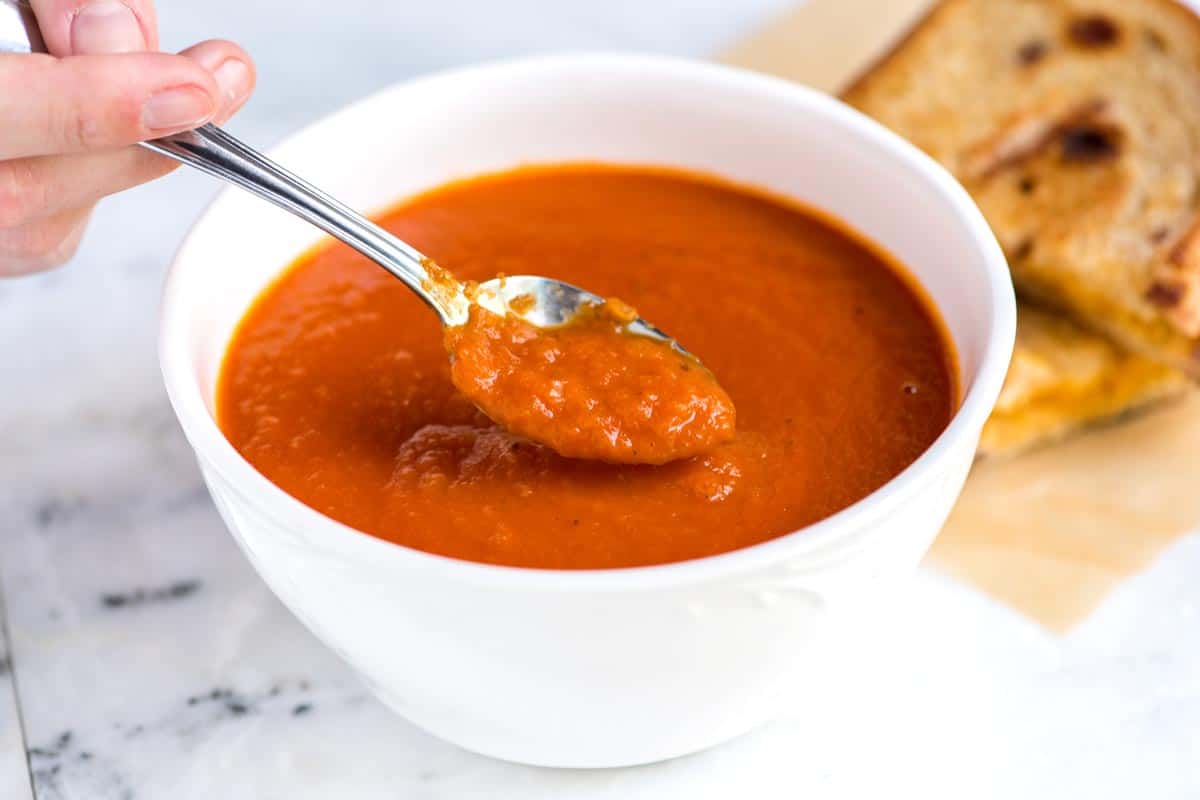 Super easy, this soup literally takes 3 minutes of prep time & I serve it with grilled cheese. I love that the majority of the meal is veggies. They say to cook it for 40 minutes, but I usually just do 15, depending on how much time I have available.
Busy Weeknight Bean Chili
Again a favorite because it's so easy and quick. The kids love this and to be honest they don't even notice that it's vegetarian. The trick here is that you fry half the beans in butter so it becomes crispy and this way the dish has the texture as meat. The recipe is a little heavy on the butter, but I don't worry about it too much, it's still less fat than if I were to use meat.
Skillet Summer Vegetable Lasagna
I was so surprised that my kids ate this. And I was so surprised that my husband & I ate it, too! It has quickly become a weeknight favorite and it has soooo many different veggies in there! I guess what the author says is true: add enough cheese to it and kids would eat anything ;)
Chicken Tostadas
Quick, easy and fun. What I like most is that I can make sure there's at least something for everyone. Having all the bowls with different ingredients on the table always looks so festive. I often light a candle and just like that you have a mini celebration instead of just dinner.
Grocery List
And here's what you'll need for the week. I assumed you have salt, pepper & oil in your kitchen
For the tomato soup:
4 tablespoons unsalted butter
1/2 large onion
1 (28-ounce) can tomatoes
bread
cheese (for grilled cheese sandwiches)
For the chili:
6 tablespoons butter
2 (15.5-ounce) cans kidney beans
2 1/2 tablespoons chili powder
1 large onion
2 green poblanos
1 (28-ounce) can whole, peeled tomatoes
For the lasagna:
1/2 cup chopped yellow or white onion
4 garlic cloves
28-ounce can diced tomatoes
10 curly-edged lasagna noodles
1 small zucchini
1 small yellow squash
1/4 cup chopped fresh basil
1 cup ricotta cheese
1 cup freshly grated Parmesan cheese
For the tostadas:
corn tostadas
3/4 cup monterey jack cheese
1/2 red onion
1/2 teaspoon chili powder
1 garlic clove
1 cup cooked chicken breast
1 teaspoon fresh lime juice
1 tomato
1 avocado
fresh parsley